We have a number of regular sit and sew style groups, evening groups, private class opportunities, and even a reading group at Berry Quilt & Co. If you are looking for a regular group, read the group profiles below and follow the links for more information. These groups are popular and occasionally there is a waitlist for a term or two. Contact us for more information or waitlisting.
If nothing here suits you, perhaps you are looking for a local not for profit group or guild to join and sew with? Try Red Berry Quilters (our local Berry quilting group) Nowra Quilters, Kiama Quilters, Illawarra Quilters or Wollongong Modern Quilt Guild. Most of these groups have Facebook pages or websites and can be contacted there. 
Mostly Modern Mondays
A sit & sew group exclusively for members of a Modern Quilt Guild!! We welcome all MQG members nearby or travelling through to visit and say hello or book in and join us for the day. It's all about fostering the modern quilting community in our area and all around! Many regulars are members of Wollongong MQG Cost is $30 per person per session. Bookings necessary to ensure availability.
2023 DATES: 13th Feb, 13th March, 17th April*, 8th May, 5th June**, 10th July, 14th August, 11th Sept, 9th Oct, 13th Nov, 11th Dec (* Denotes Third Monday  ** Denotes First Monday Cost is $30 per person per session. 
Open HELP Sessions with Sharon
These sessions are for any of you who need a bit of extra assistance. From the total beginner or newbie patchworker to the rusty maker who has forgotten everything.  Or even the experienced dressmaker or home decor sewist who wants to have a go at patchwork but doesn't know where to begin. Anyone who'd like a relaxing day stitching their own project with a bit or back up and even some help cutting your fabric, making choices or working out your machine (Make sure you bring the instructions!) Maybe you are halfway through the project and can't remember where you're up to. Maybe you'd like to begin to sew or quilt but don't know where to start or what equipment to use. Maybe you've never stitched anything at all…. Well we can help you out in this session. More details and images here. 
2023 DATES: Wed 15th Feb  (Note: First class is a Wed), 16th March, 20th April, 18th May, 15th June, 20th July , 17th August, 21st Sept, No Class Oct, 16th Nov, No Class Dec.
SOLO Sessions
These sessions are for any of you who need a bit of extra assistance or who would like some private time to familiarise themselves with the tools, equipment and work out where to begin their patchwork journey.. Anyone who'd like a private time slot with a dedicated instructor or cutting slave for 2 hours. Suitable for troubleshooting or kickstarting basic dressmaking, By Annie Bagmaking, patchwork or quilting projects. OR book in with a friend and you each save $20 . Duos are $60pp. Available Time slots: 9-11am,  11.30-1.30pm,  2-4pm,  4.30-6.30pm More info and pics here:
First Monday Dates: 20th Feb, 20th March, 17th April, 15th May, 19th June, 17th July, 14th August*, 18th Sept, 9th Oct*, 20th Nov, 18th Dec*  (Note * Denotes Second Monday)
First Sunday Dates:  No Class Feb, 5th March, 2nd April, 7th May, 4th June, 2nd July, No Class August, 3rd Sept, No Class Oct, 5th Nov , 3rd Dec.
Thursday Evenings with Lisa
This Sit & Sew group meets fortnightly on Thursdays form 7pm to 9pm.  Doesn't meet in school holidays. It's a general sewing support group! Brings some hand stitching and enjoy creating with a bit of company Lisa is multi talented and depending on what you're wanting to make; it could be embroidery, very basic garments, patchwork or even sock knitting.  Your $100 term fee is payable to secure your spot regardless of attendance and covers the 5 sessions each term. Fills up quickly. EVEN Weeks Term One 2023 ODD Weeks Term Two, Three and Four. Places limited: please phone for availability. 
Term One:  9th Feb, 23rd Feb, 9th March, 23rd March, 30th March.  Term Two:  27th April, 11th May, 25th May, 8th June, 22nd June
Term Three: 20th July, 3rd Aug, 17th Aug, 31st Aug, 14th Sept.  Term Four: 12th Oct, 26th Oct, 9th Nov, 23rd Nov, 7th Dec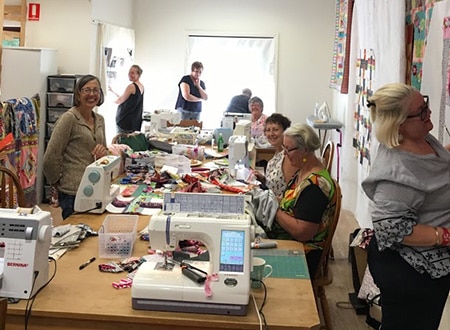 Wednesday Women - Sit & Sew
Meets most Wednesdays in school term time. No tuition, purely a group sit & sew. A day for anyone who wants an inspiring space to sit & sew with company. Any sewing welcome! Anybody welcome! Morning tea provided – Doesn't meet in school holidays or on Lorena Uriarte's Class dates. Bookings in advance advisable. Space is limited. 
Here are the dates where there will be NO Wednesday meet up:  8th March,  12th April, 19th April, 10th May,  5th July, 12th July, 13th Sept, 27th Sept, 4th Oct, 8th Nov, 20th Dec.  School Holiday Wednesdays are underlined and Lorena's class dates are in bold.
Wednesday Words with Jane
This is a book group with a difference! A hand stitching sit and sew with a book discussion. Discussion led by our very own resident librarian Jane Smith of @janesquilts on Instagram. You will get the books or prompt a month in advance and have time to read up before the meet up. Stich a lot or chat a lot about books it's up to you.  This is not a tuition situation it is a book discussion group for those who want to sit and stitch at the same time.  Beginning on Wed 15th Feb and continuing on the second Wed of each month.  Reading list and details at this link.  
This error message is only visible to WordPress admins
Error: No feed found.
Please go to the Instagram Feed settings page to create a feed.