Upcoming Classes & Groups
Welcome to our class calendar!  To navigate, use the arrow in a circle below right to scroll months forward and the circle to scroll back. Click on a listing title to bring up details. Scroll right to the bottom of each listing, past the description to view images, access booking and pricing info. Close the listing using the small X at top right of the popup to return to the calendar. Don't forget to check back regularly to see if any thing has been added or scroll to bottom or sign up to our monthly newsletter. 
Here is a link to a Printable PDF of our classes for the second half of 2022
Be inspired by the very best teachers from near and far! We run a diverse program of regular and special one-off workshops, hosting experienced tutors who work in a wide range of styles, approaches and media. Their work is exciting, inspiring and designed to begin or extend your sewing or quilting practice.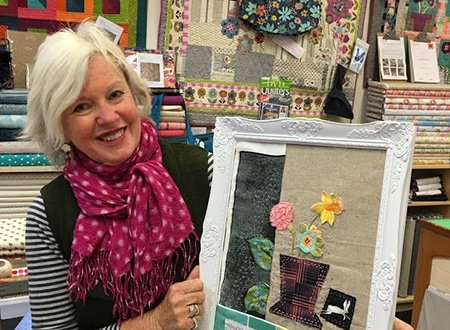 Sheena Chapman
Sheena has been teaching patchwork and quilting for over 20 years and has an irresistibly exuberant style. Her quilts draw inspiration from vintage quilts and textiles and she has a great eye for combining op-shop finds with contemporary fabrics in improvised designs. She's a prolific maker coming to each class with plenty of show and tell! New makers and makers wanting to loosen up will enjoy Sheena's approach to quilt making.
Jennifer Corkish
Jennifer is an exhibiting textile artist with many years of experience in the embroidery, quilting and textile art fields as a teacher, practitioner, technical editor and designer. She enjoys trying her hand at everything from antique reproduction to traditional applique as well as many art quilt and contemporary textile art techniques, making her a very versatile teacher. Jennifer's classes are appropriate both for beginners and those up for a challenge.
SUBSCRIBE TO OUR NEWSLETTER
Be the first to hear about new classes, fabrics & special offers!