Upcoming classes & groups
For convenience, you can filter by class type by clicking on TYPE and choosing Group, One-off Workshop, Regular Class or Sit & Sew. Or filter by TOPIC of class to find something covering your particular interests. You can also leave the settings at ALL and scroll through the months to see everything that is available. Click on a listing to view the details, then close the listing to return to the calendar. Please familiarise yourself with our booking terms and conditions. 
Be inspired by the very best teachers from near and far! We run a diverse program of regular and special one-off workshops, hosting experienced tutors who work in a wide range of styles, approaches and media. Their work is exciting, inspiring and designed to begin or extend your sewing or quilting practice.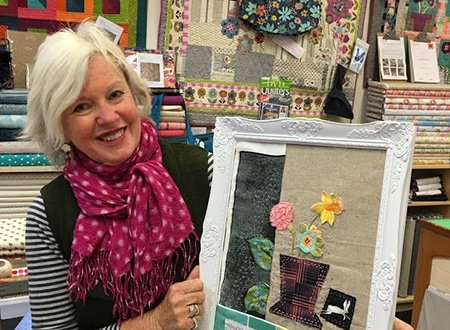 Sheena Chapman
Sheena has been teaching patchwork and quilting for over 20 years and has an irresistibly exuberant style. Her quilts draw inspiration from vintage quilts and textiles and she has a great eye for combining op-shop finds with contemporary fabrics in improvised designs. She's a prolific maker coming to each class with plenty of show and tell! New makers and makers wanting to loosen up will enjoy Sheena's approach to quilt making.
Jennifer Corkish
Jennifer is an exhibiting textile artist with many years of experience in the embroidery, quilting and textile art fields as a teacher, practitioner, technical editor and designer. She enjoys trying her hand at everything from antique reproduction to traditional applique as well as many art quilt and contemporary textile art techniques, making her a very versatile teacher. Jennifer's classes are appropriate both for beginners and those up for a challenge.
SUBSCRIBE TO OUR NEWSLETTER
Be the first to hear about new classes, fabrics & special offers!